1974 Wiper info
This info was sent in February, 2012 by
Larry S. (car 918
Kandra@flash.net
931-823-0222
Windshield wiper Glassic Generation two. (These are the Ford engine cars ranging from about VIN 431 TO 1211 and years 1971-1974) Reminder: running wiper on dry windshield can scratch the windshield and is harder for the motor then a wet windshield.
Roadster R918 has Trico brand Vacuum Wiper Motors (left and right are Not the same). I have seen several different Trico Vacuum motors so buying a Rebuild kit would be a little bit of a gamble making sure you got the correct one.
Wiper Blades are 7 3/4" long and only available through Model A part sites.
If the motor doesn't run or is very slow try A little WD40 or Transmission fluid, it can restore the motor sometimes. Just put a Small amount into the motor where the vacuum hose Connects (NOT in the hose). It is the hose connection closest to the door (left on Driver side and right on Passenger side). (pic below)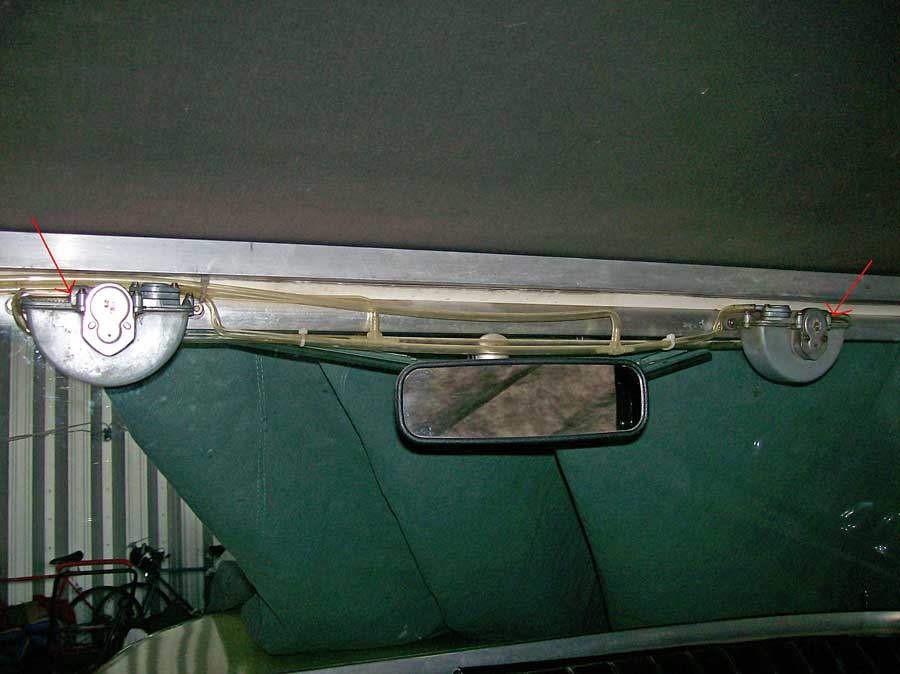 Make sure to work the wiper shaft back and forth several times. Then clean excess lubricant before reconnecting hoses.
It that doesn't help replace or check the Vacuum Hoses for leaks.
If you want to remove the motor:
The wiper blade on R918 is held on a knurled cam by a screw accessible on front of wiper blade assy. (pic below)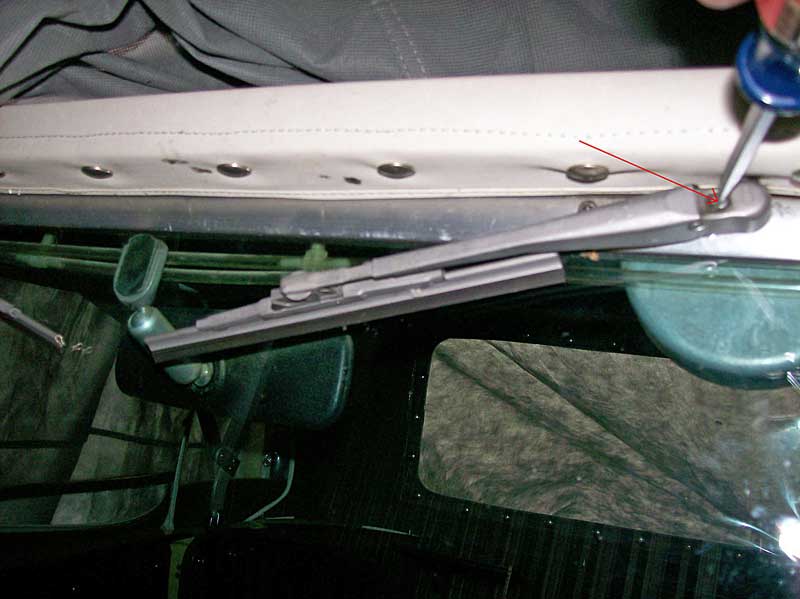 The knurled cam is held on Motor Shaft by a Set Screw (or two).(pic below)
The Motor is held in place with two bolts through the windshield frame along with lock washer and nut.
When you reinstall the Wiper Blade be sure to turn the Vacuum Motor Shaft to home (starting) position before positioning the Blade for reattachment.

The motor can be replaced by an Electric Motor. Several universal types are available. They would mount by a nut on the drive shaft assembly. The current mounting holes would need to be plugged, switch replaced, and wires ran. I would suggest buying as a assembly with Motor, Blade, and Blade Arm. Some Motors have a built-in switch.

As of 2/2012, Larry advises that http://www.wiperman.com/ rebuilds Trico Vacuum Wiper Moters (currently $99. + shipping)