Here are the first pictures of yesterday's Glassic gathering at Leesburg. The weather cooperated beautifully; maybe, the jinx is broken! Wayne, who organized this gathering, is referring to the Cruisin' the Coast reunions in New Orleans, one year of all rain, and the next year canceled by Hurricane Katrina. Why is some of this in PURPLE?


A summary of the event near the bottom of this page.
In many cases, click on the picture for a larger view and sometimes a (+) appears for even larger view -- use your browser back arrow to return to this page.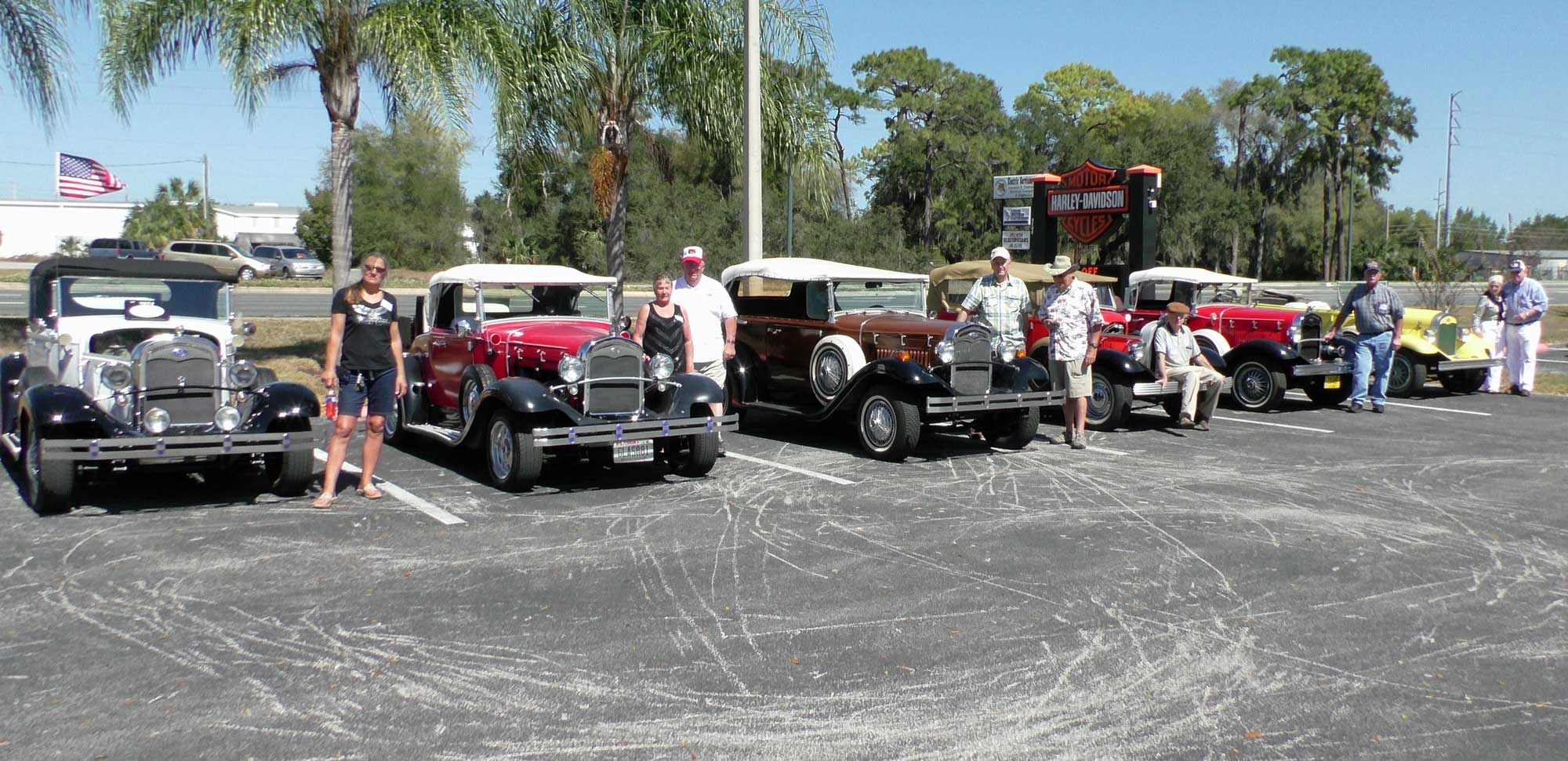 Janice Kloog by her #1119 Roadster, Brian and Peggy Wiswell by their #881 Roadster, Ken Bragg and Jack Dinsen (#146) by Ken's #1089 Phaeton, David Willkomm sitting on his transcontinental #162 Phaeton, Joel and Linda Faircloth, magnetically, drawn by color to #141 Phaeton, owned by Wayne Willkomm.

A special parking space had been set aside for the Glassics at the front of the Gator Harley location. The gracious owner/host John Malik (Jr.) is pictured in front of the line up. He and his staff, including Jan, events and marketing coordinator, went out of their way to make the gathering go, smoothly.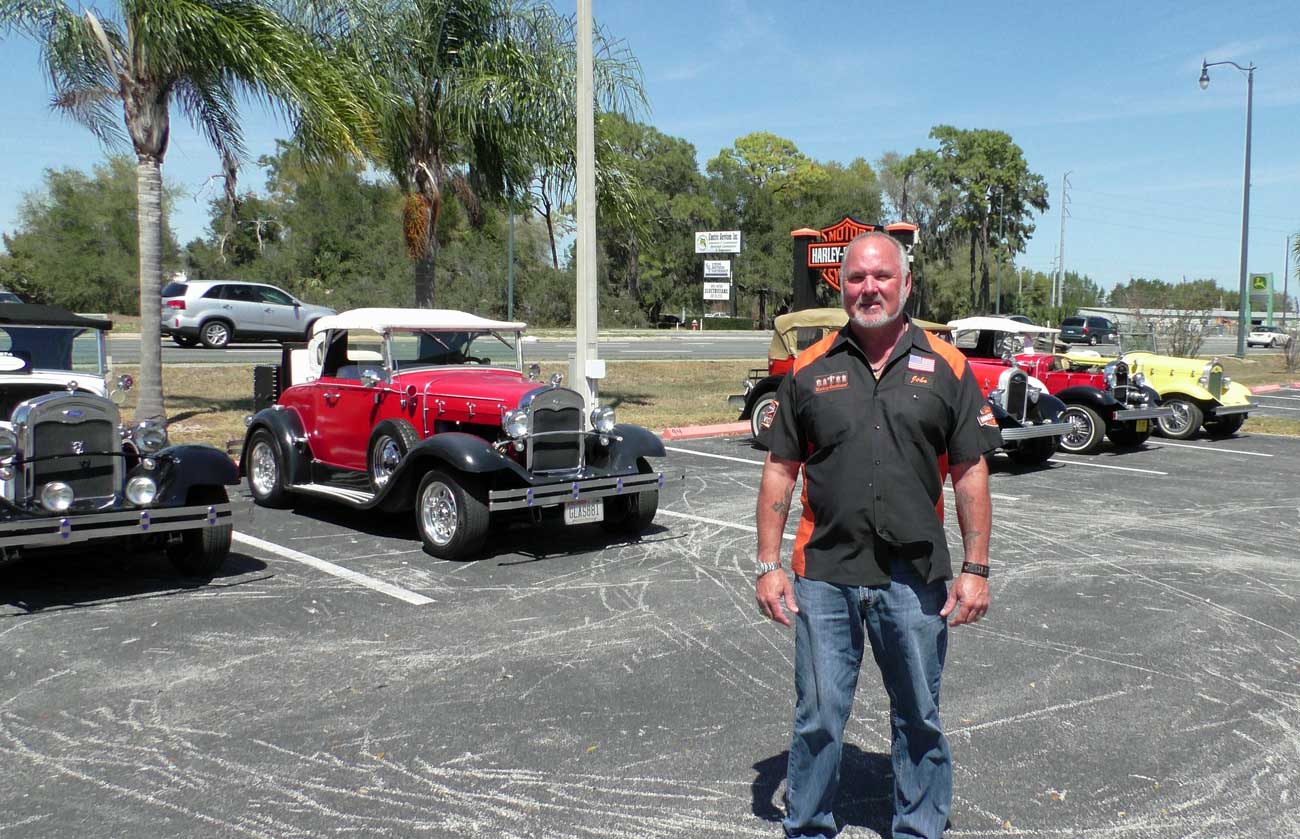 A special parking space had been set aside for the Glassics at the front of the Gator Harley location. The gracious owner/host John Malik (Jr.) is pictured in front of the line up. He and his staff, including Jan, events and marketing coordinator, went out of their way to make the gathering go, smoothly.
Many thanks to Wayne for organizing this reunion and to John and his folks for providing their support for this event.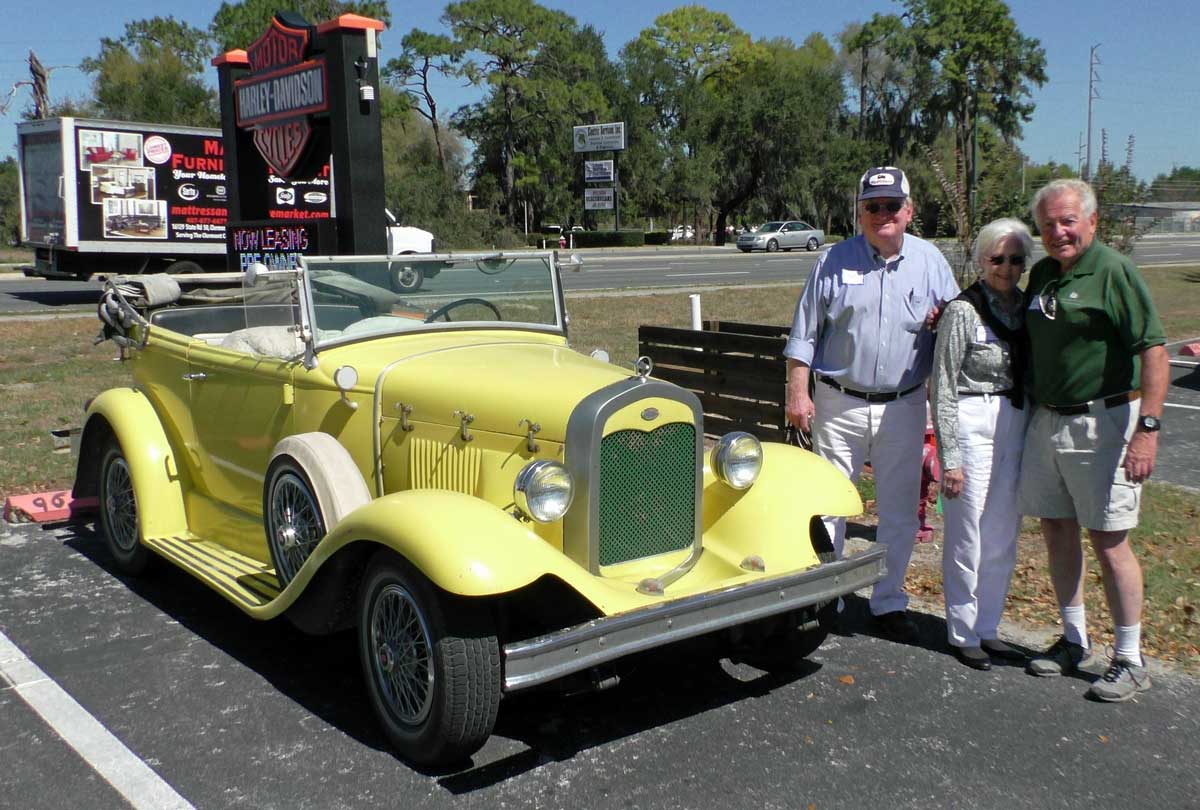 Joel who is Joel? and his wife Linda with me, standing next to #141 phaeton.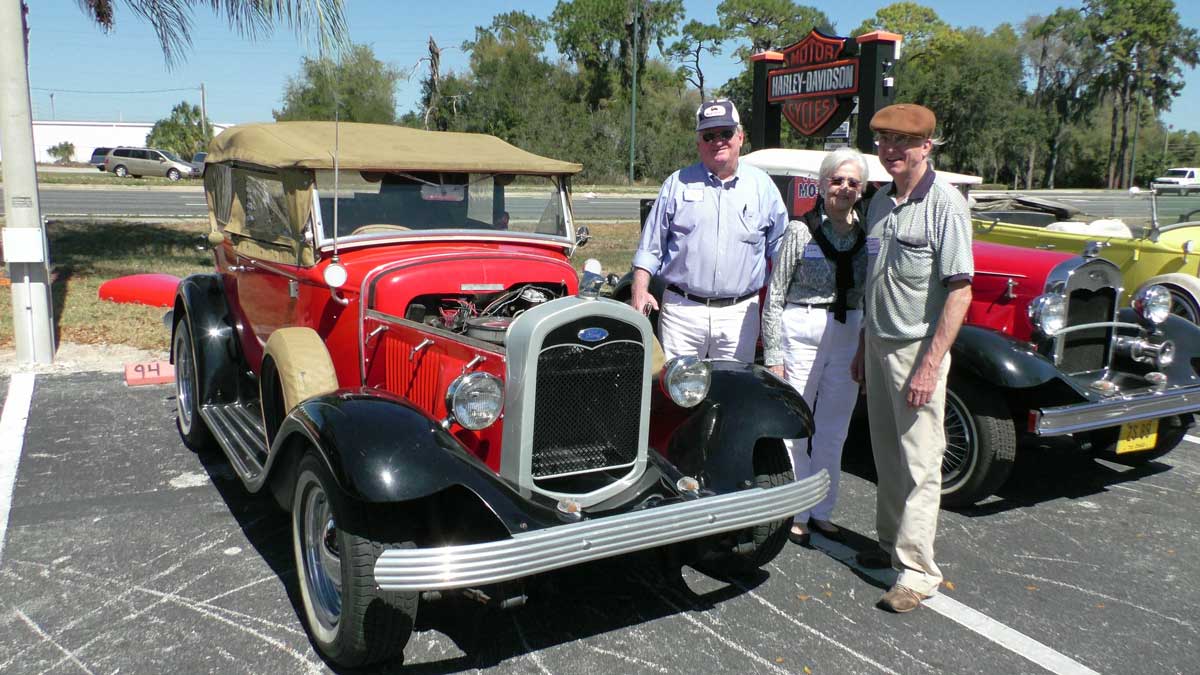 Joel and Linda standing with David, next to his #162 phaeton.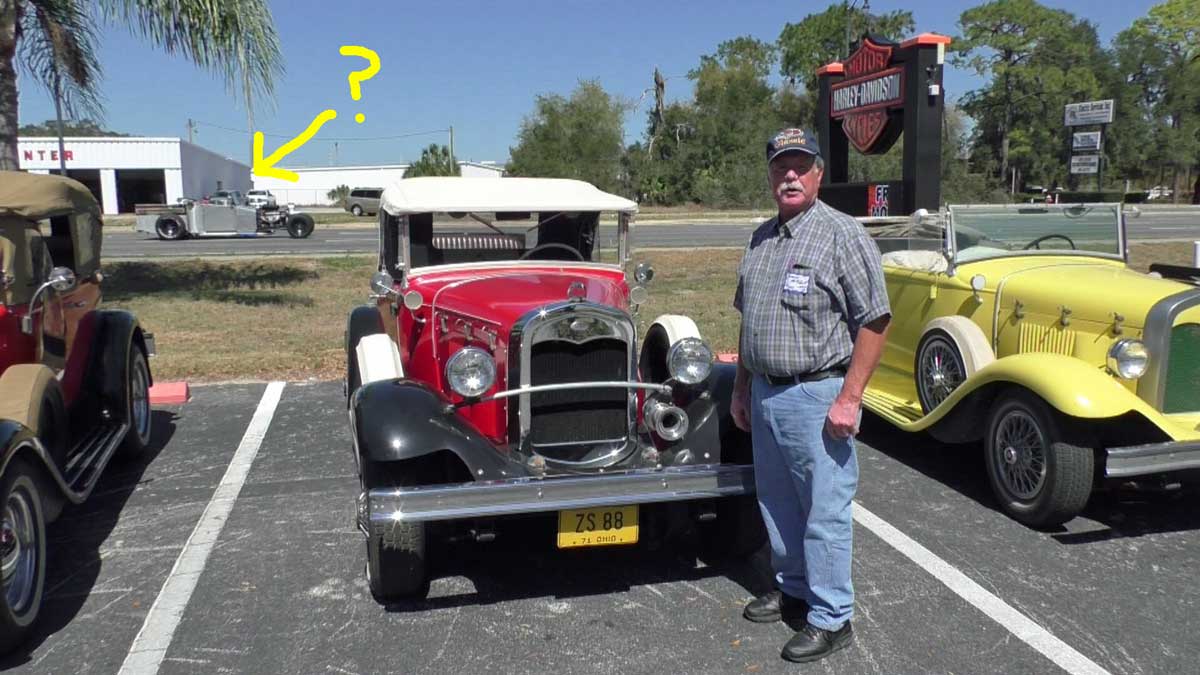 George Mitchell with his #420 Roadster. He and Dell, also own #410 phaeton up in Ohio. #141 is on the right and #162 is on the left.

The yellow arrow and question mark in the upper left -- an envious passer-by?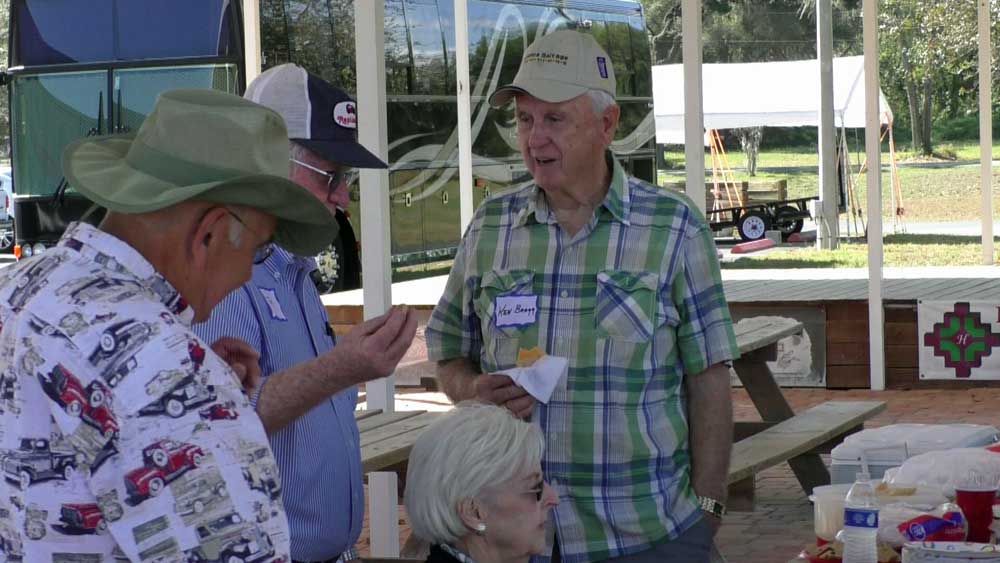 Jack Dinsen listening while Joel Faircloth, center standing, explains Glassic history to Ken Bragg, who was getting to like the Cheddar cheese very much. Linda Faircloth is sitting, enjoying the ambiance.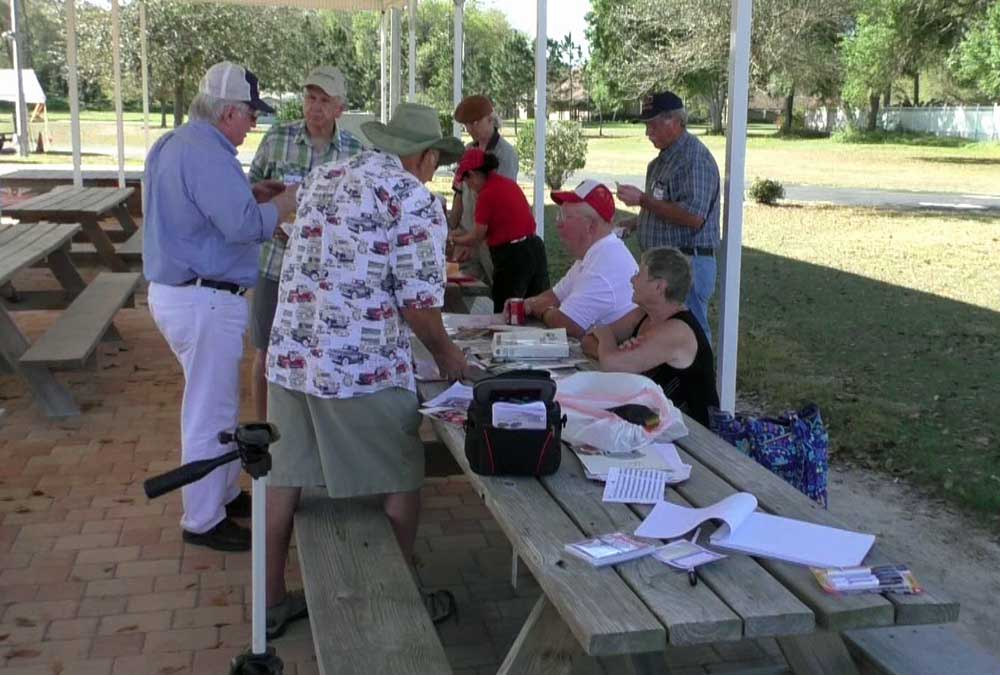 Part of our group at the tables in the pavilion.
At the far left, Joel Faircloth is talking to Ken Bragg, 1089 phaeton, behind, Jack Dinsen 146 phaeton (back to camera). Brother David is having some Wisconsin cheese with Dell Mitchell (in red), wife of George Mitchell, standing at the far right (420 Roadster in FL, 410 phaeton in OH), seated are Brian and Peggy Wiswell, Roadster 881. In the foreground are the registration materials and at the far end of the table are brochures/pictures of Glassic/Replicars.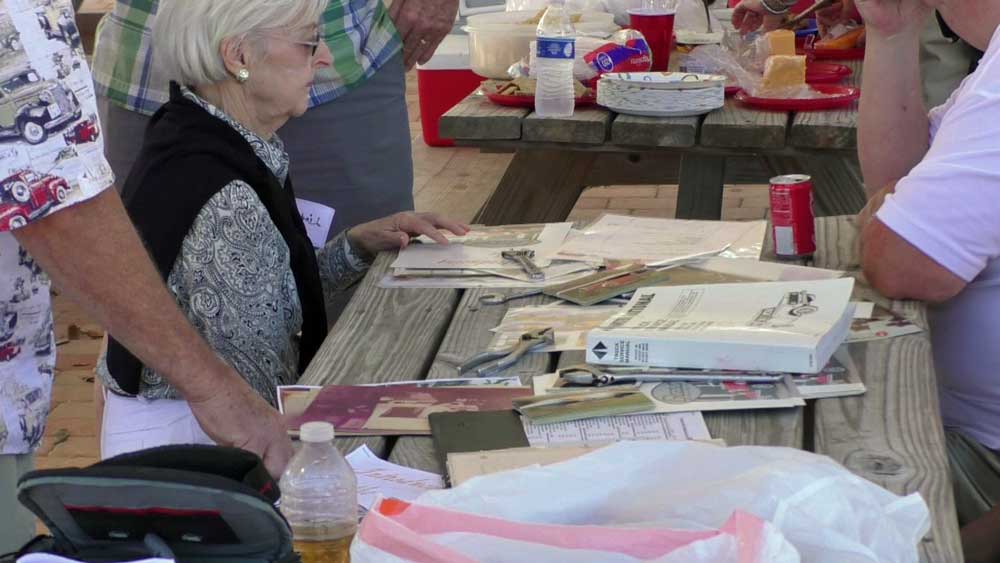 Linda Faircloth perusing the brochures/pictures.
Brian and Peggy Wiswell next to their 881 Roadster. At the left is Janice Kloog's 1119 Roadster. At the background right is David willkomm next to Ken Bragg and his 1089 Phaeton. A friend of Ken's is at the lower right.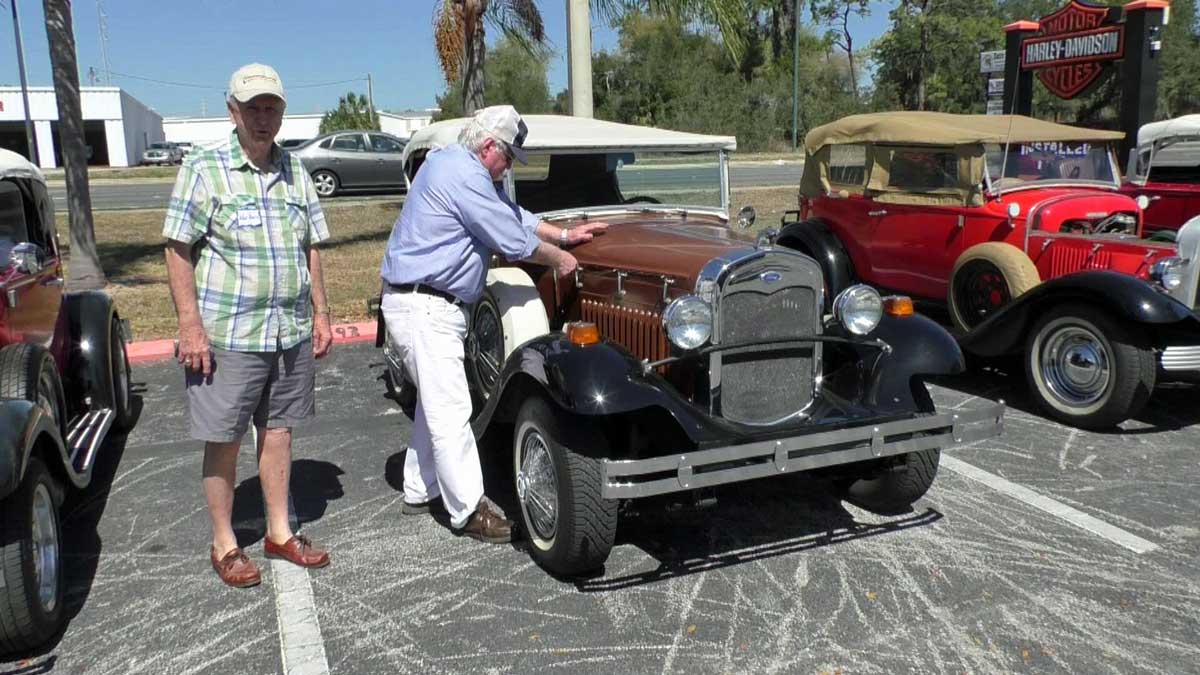 Ken Bragg standing next to his 1089 Phaeton while Joel checks out the split hood top option that came on 1089. Roadster 881 is, barely, visible at the left while # 162 Phaeton is, easily, seen on the right.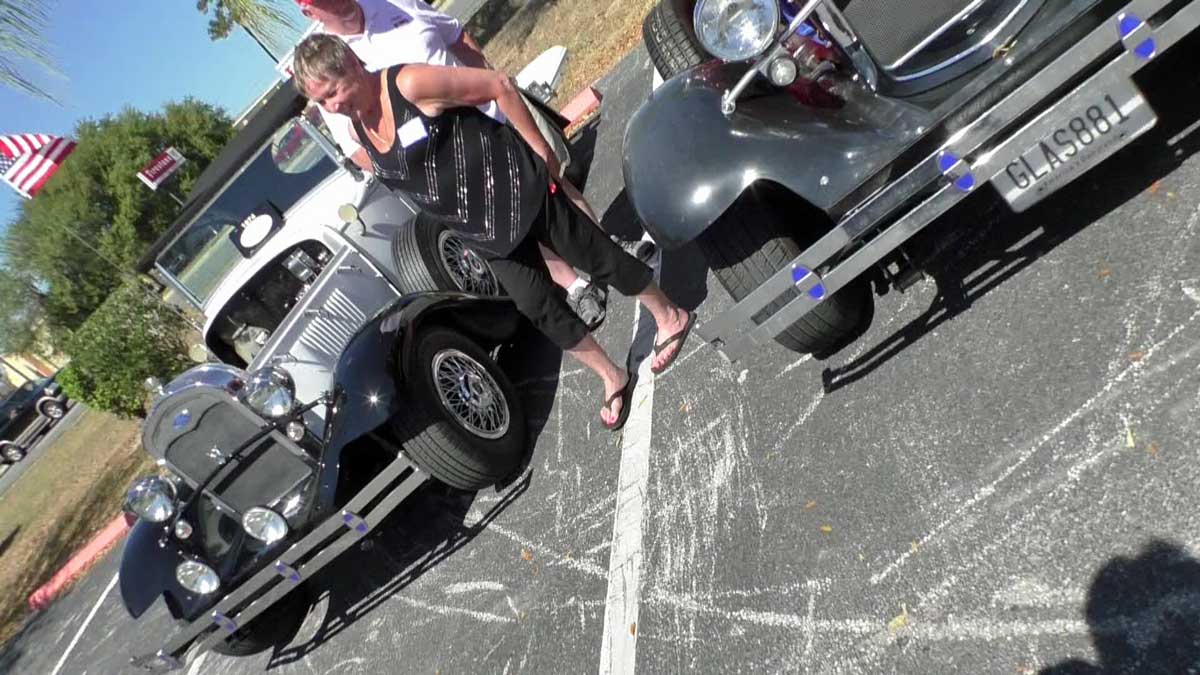 an angled shot of more of #1119 Roadster with Brain and Peggie Wiswell.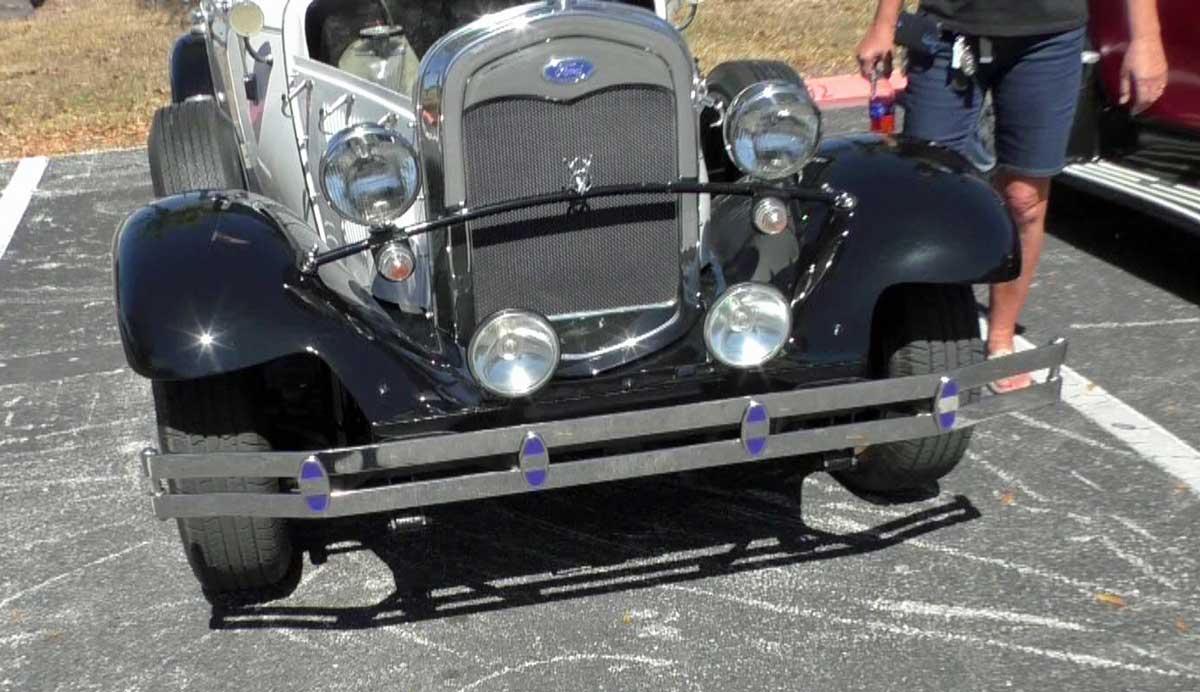 the front of Janice Kloog's #1119 roadster and the lower half of Janice. Slight cameraman error here.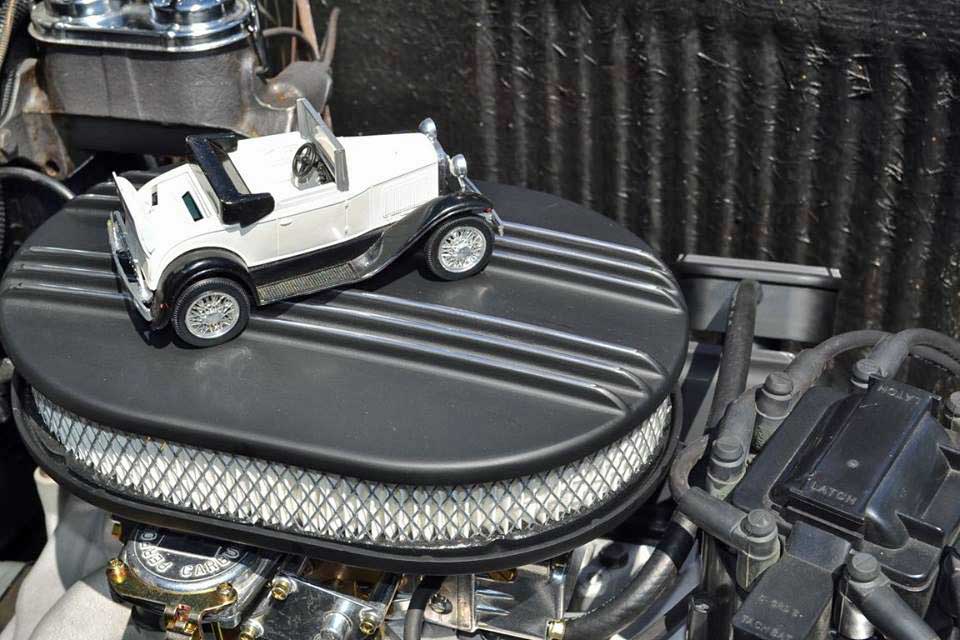 A couple more views of Janice Kloog's nicely finished car 1119. Click for larger view.
Front row from left: Dell Mitchell, Peggy Wiswell, Wayne Willkomm, Janice Kloog, David Willkomm. Back row from left: Jack Dinsen, Brian Wiswell, Phyllis Davis, and Edwin Davis.
Missing: Joel and Linda Faircloth (had to head back to West Palm Beach.) Ken Bragg #1089 (had to leave early.) George Mitchell #420 (was just out of camera range,) and Bob Ryczek #576 (was off camera, attended without his car.)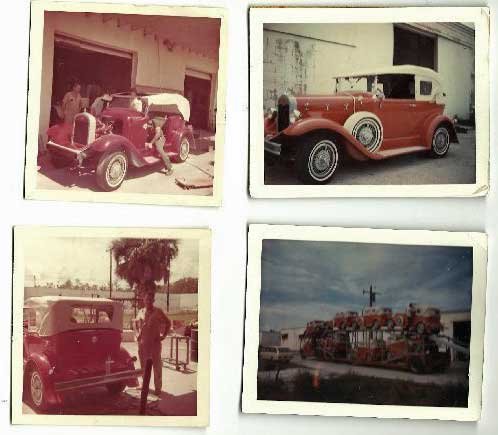 Top left: Prototype getting closer to being finished.
Top right: Prototype "nearly finished"
Bottom left: Another Dick Bradley (hands in pocket) picture..
Bottom right: much later photo with 3 dealer order (2 each) plus a seventh Glassic loaded on just for the picture.
NOTE: After the car was "finished" down at Dick Bradley's place in Pompano, we hauled it up to West Palm Beach (to the Faircloth Truck & Tractor - IH dealership) for mechanical work - wiring etc... 4 mechanics worked all night to get the car mechanically "finished" and prepped to be driven to Ft. Wayne for Harvester approval before they would consider selling us "running chassis"... E.V. Faircloth made it up and back with only minor incidences of annoyance, and Harvester gave their blessing and we were in business
Top row left side : Prototype at Dick Bradley's Pompano place
Top row center: Joel in center holding header bar of top frame
Top row right side: "Jack" E.V. Faircloth, Father of the Glassic
Bottom row left side:
Joel (Kneeling at front wheel) and Dick Bradley (head engineer and super brain) with hand in pocket
Bottom row center: Dick Bradley (looking at something) and Joel (hanging out the driver side door opening)
Bottom row right side: Nearly finished prototype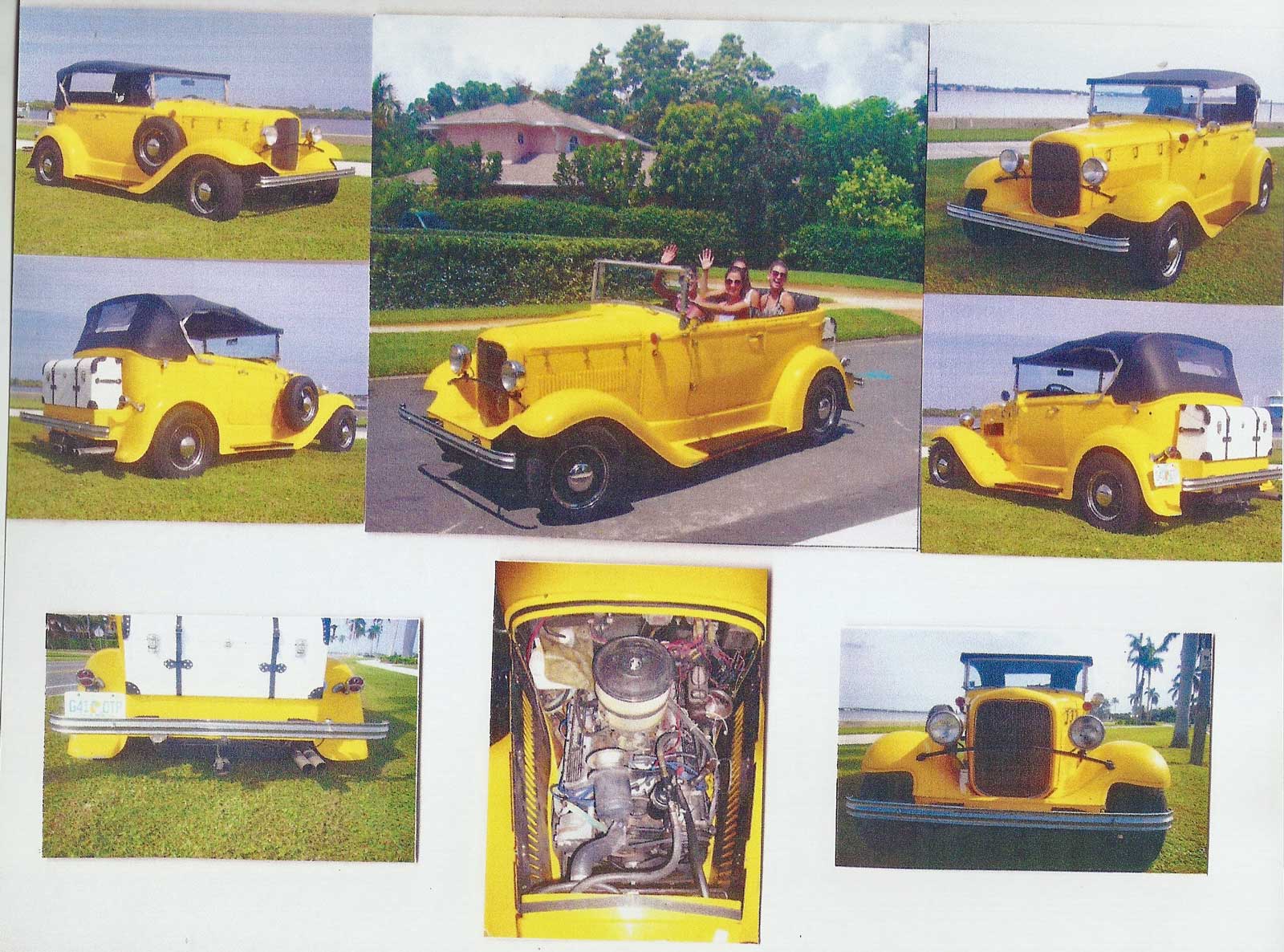 Reunion Event Report
This reunion, organized by Wayne (car141), was put together on relatively short notice and took place on March 15th and was a single day event.
Ken Bragg # 1089 joined Wayne Willkomm #141, about 9:30 AM to get things set up at the Gator Harley dealership in Leesburg, FL. Joel and Linda Faircloth arrived about 10:00 AM from West Palm Beach. More people arrived, shortly, thereafter and we spent the morning ,chatting and comparing about our cars.

A few folks made it about noon to join the discussions around picnic tables in the shaded .pavilion. Wayne had done video interviews of each owner talking about their cars, but due to a technical glitch, the sound did not record right. The group enjoyed the provided refreshments and snacks, while looking over brochures and articles brought by Joel, Janice Kloog #1119, and Wayne #141.

At about 2:00 PM, Joel and Linda had to head back home. The group, finally, broke up about 3:00 PM, and by sundown, the reunion had moved into the history column. Although a bad-weather alternative was prepared, the weather ended up being perfect for the all-outdoor event. Everyone left with plans of making next years gathering bigger and better.
AFTER THE EVENT, WAYNE, THE ORGANIZER, WROTE TO THE PARTICIPANTS -

Can, happily report, the Ides Of March were no match for six Glassics, and, at least, four more owners. With the sunny weather and good facilities, there were lots of looking, conversations, stories, and smiles all around. A good number of pictures and information have been forwarded to Don Davis, Annexmaster, for his editing/posting on our website. Additional pictures have popped up on Facebook. A couple of pics have been attached to whet whistles (also posted on this page), so all can look for more, if desired

Plans are already in place to make next year's meet up bigger and better.

Many thanks to all of you whom have made me look good. You know who you are!

Good luck and Steady Winds

Wayne
AFTER THE SUCCESS OF THIS REUNION,
ANOTHER WAS HELD IN 2017.
SEE THAT REPORT
ALONG WITH VIDEOS AT