I purchased two Spicer 5-153X U-Joint Kits https://www.amazon.com/dp/B000CKN762/ref=cm_sw_r_cp_apap_JJDyBmf5ffld3
(My 45 year old sealed U-joints had rust and soon would fail. These new ones have a zurk grease fitting).
I cut one inch off the yoke of the old c-4 and this compensated for the AOD being one inch longer. Just a hacksaw and de-burring.

I also got my flexplate from Amazon. ATP Z-105 Automatic Transmission... https://www.amazon.com/dp/B000C8RDBY?ref=ppx_pop_mob_ap_share

It bolted on and has the correct weight for my 302 external balancer. I used my old stock starter
FLEXPLATE -- Years ago, I recalled the tale of an owner Why is some of this in PURPLE? who had made a conversion to the AOD, and had learned the hard way that the old flexplate did NOT work correctly and, in fact, ruined his engine. I asked Ron for more specifics, and his answer appears here. I also found other AOD info that I had posted, and include those links in this box as well.
The C-4 flexplate. Is 152 tooth (smaller). The AOD is much larger 164 tooth. You must change them or the converter will not bolt up at all.
The issue is getting the wrong flexplate. I had one recommendation and ordered it to find the offset from the flywheel was too short and if I had tried to use it would of been a mess.
The one I purchased in Amazon is the correct flexplate for the year of our 302 and our conversion.
This plate is 50 oz offset weight for our older motors. If someone chooses to change motors they will need to discover the correct combination.
Other AOD info on the Annex:
Gear ratio in the rear end when changing to AOD
I needed to make a new transmission mount for the old C-4 would not work. I took some 2 inch angle iron and made two small pieces to bolt to the stock channel iron welded to the frame. I used socket head cap screws with blue die springs to mount the angle to the transmission. See the attached pictures. Another option would have been to cut off the old mount and re-weld it further back on the frame. This solution is easier, and likely stronger than moving and welding old steel. There may be a universal transmission crossbar available, but attaching it to the frame presents the same issues.

I ran new 3/8 inch cooling tubing to the transmission cooler external to the stock radiator. If you drive in cold weather loop it through the stock radiator. I mounted my cooling coil on top of my radiator for all that extra space needed something to catch bugs. I bent the tube with hand benders. Used reverse ferrels on the trans. Had some initial leaks here so don't be scared to tighten them.
I needed to run the TV cable to my Edelbrock Carb. (I said goodbye to my Holley long ago for blowing power valves). I chose to order a new Lokar TC-1000U 24" Universal. throttle cable .. https://www.amazon.com/dp/B000COMNO0?ref=ppx_pop_mob_ap_share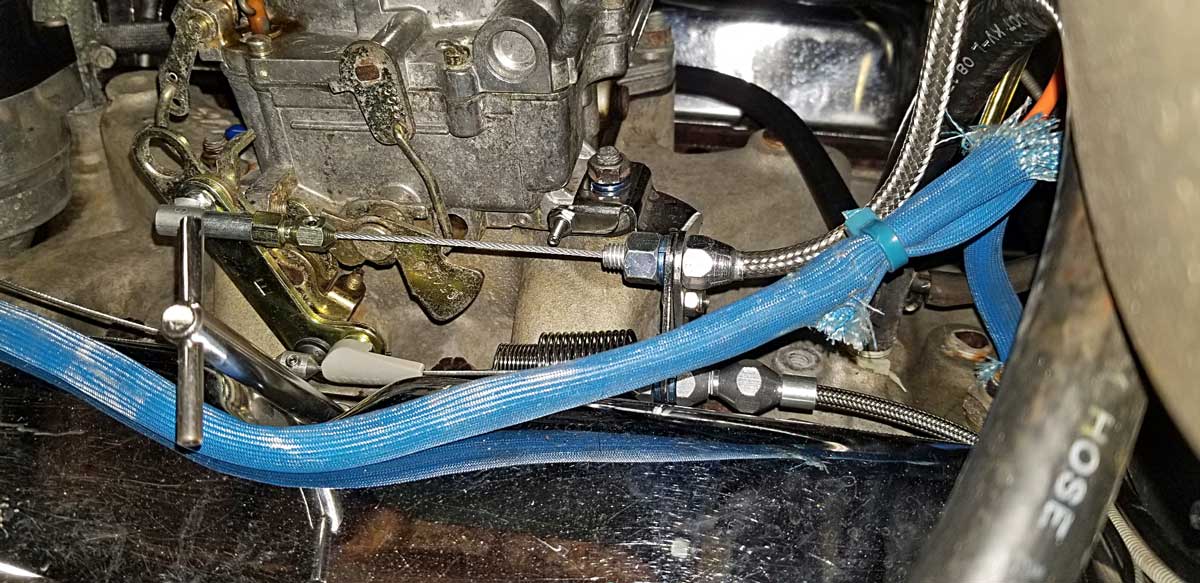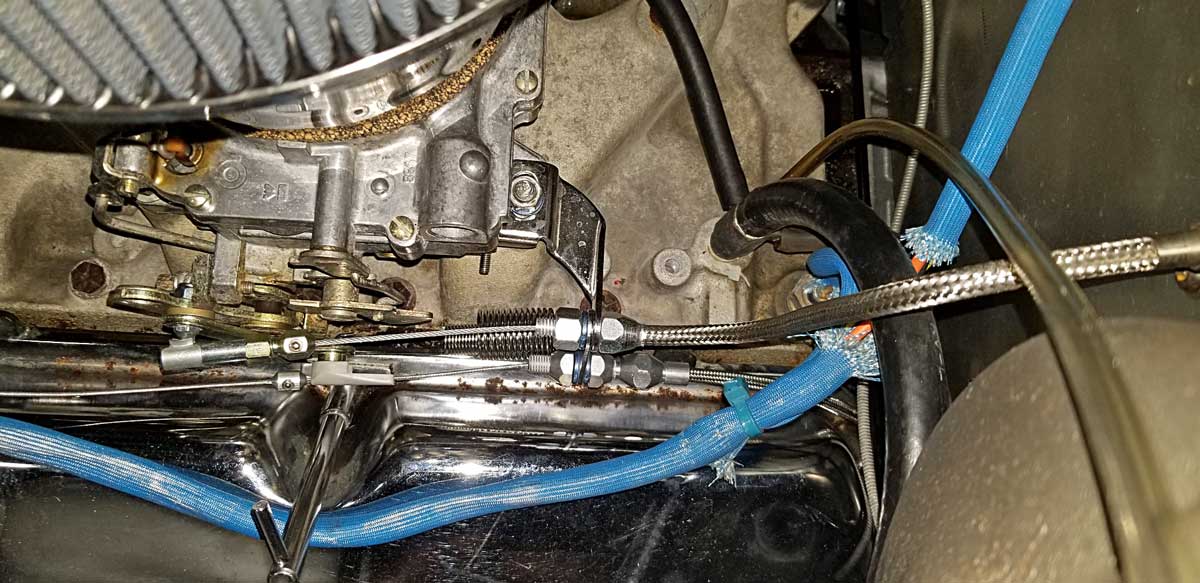 Side view on left, looking down on carb on the right.
My car already had a Hurst ratchet shifter so I continued to use it.

I purchased the AOD park switch and reverse lights connector. The switch is inside the AOD.
AOD Neutral Safety-B/U Light Connector Pigtail https://www.amazon.com/dp/B00AQ4AN84/ref=cm_sw_r_cp_apap_FFNGQrxjtupGg


Wired to neutral safety and the others to reverse backup lights.

I was given a free Audiovox Cruise (speed) Control. I thought while I was under the car i would install it. It had the magnet pickup for the drive shaft. This worked my old 302 without any ECU or crank sensor.
If you are looking to purchase one. Guess where? Rostra 250-1223 Universal Electronic Cruise Control https://www.amazon.com/dp/B007ZCQD9S/ref=cm_sw_r_cp_apa_i_ph32CbA5ZWCFP
I plan to retire in a couple of years and want to drive it down to the gathering in Florida (if it is still being heled). I am looking into a teardrop camper to go on it.

I like the AOD. It runs 70 mph at 1800 rpm. My 10 gallon tank can take me 130 to 145 miles if I keep my foot out of it. If I choose to get on it it will break loose the tires on every shift.
Having read an older submission to the Annex about rear-end ratios maybe needing changing when changing to an AOD, Ron said that the special-built transmission had taken into account what the rear end ratio was. The rear end ratio might need tweaking if replacing with a salvage, or stock AOD.